Web Design, Web Development & Web Hosting that works for you!
Dave Dinsmore Web Design offers everything to get your business online!
Web Design, Web Development, Web Hosting and much more!
Great Support, Outstanding Uptime, Dedicated Servers, etc..
Latest News
New Product! Atlantic CMS! - Oct. 30, 2012
Dave Dinsmore Web Design is pleased to announce our new product, Atlantic C.... read more
Website Marketing to a New Level - Oct. 06, 2010

Working hand-in-hand with Dave Dinsmore Web Design, the opportunity to u.... read more
Online Wedding CMS and More! - Sep. 26, 2010

We are pleased to announce that we are now offering an online .... read more
Socialnomics - Must See Videos - Jun. 25, 2010

A couple of videos on social media! Some great videos with some very int.... read more
Welcome to Dave Dinsmore Web Design

Offering quality web design, hosting, development and much more!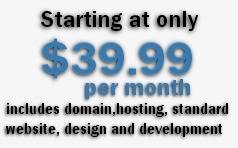 NEW PRODUCT! Atlantic CMS!
Your Complete Marketing Solution!

FREE 14 DAY TRIAL - No obligation, No Credit Card Required, No Hassle!

Build your own site with over 200 designs to choose from, then customize the design! Edit the entire site with ease!
Click Here for Free 14 Day Trial!

Dave Dinsmore Web Design of St. Stephen, New Brunswick offers quality and affordable web design, development, and web hosting!
Our services also include logo design, fully managed dedicated servers, and custom CMS for Business, Real Estate Companies, Auto Dealers and Hockey Leagues.
We also provide Social Media help, tips and instruction for our clients along with branding Twitter pages to match your website. For a sample you can view our new twitter page here.

Feel free to browse through our website and we hope to hear from you soon!


Our Services

Offering Quality Services
Dave Dinsmore Web Design offers affordable and quality services. Our services range from design to hosting to custom built CMS. Visit our services page for more info. Read More »

Quality Webhosting

Industry Leading Uptime Results
Our webhosting packages are industry leading with many options available from standard hosting packages to fully managed dedicated servers. Read More »

Content Management

Custom built CMS
No matter what your business we provide custom built CMS to suit your needs. From standard business sites to Real Estate, Auto Dealers or Hockey Leagues. Read More »